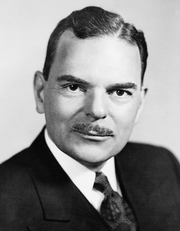 Thomas Edmund Dewey
(24 March 1902-16 March 1971) was the Governor of
New York
(
R
) from 1 January 1943 to 31 December 1954, succeeding
Charles Poletti
and preceding
W. Averell Harriman
. Dewey was the Republican nominee for President of the
United States
in 1944 and 1948, and he was famous for prosecuting famous
New York City
criminals during the 1930s and for his close defeat by
Harry S. Truman
in 1948. Dewey was the leader of the
liberal
Rockefeller Republicans
in the
US Congress
until his retirement, upon which
Nelson Rockefeller
took command.
Biography
Thomas Edmund Dewey was born in Owosso, Michigan on 24 March 1902, and he became a federal prosecutor after graduating from Columbia Law School in 1925. During the 1920s and 1930s, he ran a private practice on Wall Street in New York City, New York, and he prosecuted criminals such as Waxey Gordon. In 1935, Governor Herbert H. Lehman named him special prosecutor in Manhattan, and Mayor Fiorello La Guardia assigned 63 police officers to Dewey's office. Dewey took on organized racketeering, and he threatened to arrest Dutch Schultz after a sympathetic jury found him innocent. Schultz planned to kill Dewey despite the American Mafia warning him not to, fearing a crackdown, and they murdered Schultz when he decided to kill Dewey by himself. In 1937, Dewey became District Attorney of Manhattan, just a year after convicting Lucky Luciano of compulsory prostitution.
Dewey became a Republican Party politician in the early 1940s, and he was elected Governor of New York in 1942. Dewey was the leader of the liberal "Rockefeller Republicans", and he was an advocate for the professional and business community of the northeast, including internationalists who supported intervention against communism and fascism overseas. In 1944, he ran for president against Franklin D. Roosevelt, but he was defeated; he ran again in 1948, losing to Harry S. Truman in a very close election. Dewey remained influential in politics during the 1950s, helping Dwight D. Eisenhower with choosing Richard Nixon as his running mate. He left office as governor in 1954, and he returned to his private law firm before dying in 1971 at the age of 68.
Ad blocker interference detected!
Wikia is a free-to-use site that makes money from advertising. We have a modified experience for viewers using ad blockers

Wikia is not accessible if you've made further modifications. Remove the custom ad blocker rule(s) and the page will load as expected.