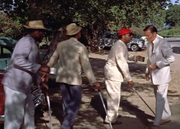 The 
"Three Blind Mice"
were three
Jamaican
assassins employed by
SPECTRE
leader
Julius No
in 1962. They were responsible for the murder of
MI6
Jamaica
station chief
John Strangways
in the parking lot of the Queen's Club, and they proceeded to raid his office, kill his secretary, and steal files related to Dr. No and Crab Key. They were later sent to chase down and kill
MI6
agent
James Bond
, chasing his car with their own car as he headed to
Miss Taro
's house in the hills of Jamaica. Bond outsmarted and outmaneuvered them, causing them to dive off a cliff; their car exploded, killing them all.
Ad blocker interference detected!
Wikia is a free-to-use site that makes money from advertising. We have a modified experience for viewers using ad blockers

Wikia is not accessible if you've made further modifications. Remove the custom ad blocker rule(s) and the page will load as expected.