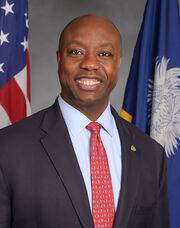 Timothy Eugene "Tim" Scott
(19 September 1965-) was a
US
Senator (
R
-
SC
) from 2 January 2013, succeeding
Jim DeMint
. Scott, a
conservative
Evangelical
Christian
and a member of the
Republican Party
, was the first
African-American
senator to be elected in
South Carolina
and the first from the
American South
since 1881.
Biography
Timothy Eugene Scott was born in North Charleston, South Carolina on 19 September 1965 to a working-class African-American family. He attended Presbyterian College from 1983 to 1984 before graduating from Charleston Southern University in 1988 with a bachelor's degree in political science. Scott became the owner of the Tim Scott Allstate insurance agency, and he won election to the Charleston County Council from the mostly-white 3rd district on 8 February 1995, serving in that post until 3 January 2009. Scott was a conservative Evangelical Christian, and his social conservatism and fiscal conservatism drew him to join the Republican Party, an unusual choice for many blacks in the American South. In 2009, he was elected to the State House of Representatives, and he was then elected to the US House of Representatives in 2011 to represent South Carolina's 1st district, succeeding Henry Brown.
Congressman Scott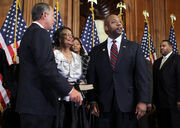 As a congressman, Scott supported
fiscal conservatism
during his time in the House, denying food stamps to families with members involved in union strikes and allowing for companies to relocate to punish striking workers with unemployment without being held back by the government. Scott believed in reduced taxes, opposed restrictions on deepwater oil drilling, opposed abortion, opposed tax-funded embryonic stem cell research, opposed assisted suicide, opposed same-sex marriage, supported making English the official language of the government, supported strengthening penalties against employers of illegal immigrants, advocated continued military presence in
Afghanistan
, supported the idea of the US giving assistance to
Iranian
democratic
groups, and opposed the US intervention in the
Libyan Civil War
.
US Senator
In November 2014, Tim Scott ran for the US Senate to finish the outgoing Senator Jim DeMint's term in office, and he defeated Democratic Party candidate Joyce Dickerson with 61.1% of the vote. In November 2016, he won re-election, and he was one of 22 senators to write a letter to President-elect Donald Trump demanding that the US withdraw from the Paris Agreement, a landmark climate accord that could have had the potential to seriously mitigate global warming.
Ad blocker interference detected!
Wikia is a free-to-use site that makes money from advertising. We have a modified experience for viewers using ad blockers

Wikia is not accessible if you've made further modifications. Remove the custom ad blocker rule(s) and the page will load as expected.