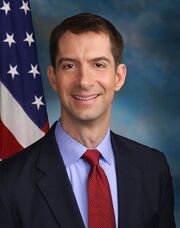 Thomas Bryant "Tom" Cotton
(13 May 1977-) was a
US
Senator from
Arkansas
(
R
) from 3 January 2015, succeeding
Mark Pryor
. Cotton had previously served as a member of the
US House of Representatives
from Arkansas' 4th congressional district from 3 January 2013 to 3 January 2015, succeeding
Mike Ross
and preceding
Bruce Westerman
.
Biography
Thomas Bryant Cotton was born in Dardanelle, Arkansas on 13 May 1977, and he grew up on the family farm. He attended Harvard College and the Claremont Graduate University, and he received his juris doctor from Harvard Law School in 2002. He served as a clerk for a circuit court judge before becoming a private attorney, and he served in the US Army from 2005 to 2009 during the Iraq War and the Afghanistan War, fighting with the US 506th Infantry Regiment. In 2010, he transferred to the reserves, and he was elected to the US House of Representatives on 3 January 2013, representing the 4th congressional district. In 2015, he was elected to the US Senate, defeating the Democratic incumbent Mark Pryor. Cotton was a supporter of the Tea Party movement, and he wrote an insulting letter to the Iranian government in response to Barack Obama's nuclear deal with Iran, claiming that Obama was not to be trusted; his letter violated the Logan Act, as he had attempted to be a diplomat without the approval of the US government. He supported the bombing of Iran in a similar manner to the bombing of Iraq during the 1990s, supported limitations on chain migration, and supported the Muslim ban implemented by Donald Trump.
Ad blocker interference detected!
Wikia is a free-to-use site that makes money from advertising. We have a modified experience for viewers using ad blockers

Wikia is not accessible if you've made further modifications. Remove the custom ad blocker rule(s) and the page will load as expected.