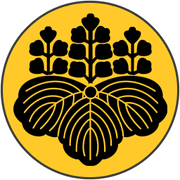 The 
Toyotomi clan 
were a feudal Japanese samurai clan that originated in Owari Province, the same province that the
Oda
resided from. The Toyotomi's greatest leader was
Hideyoshi Hashiba
, who was the first major
daimyo
; it was originally a peasant family. Hideyoshi established the
Toyotomi Shogunate
after destroying the short-lived
Akechi Shogunate
in 1582, but the clan was defeated at the
Battle of Sekigahara
in 1600 two years after Hideyoshi's death. The last leader,
Hideyori Toyotomi
, was killed in the
Osaka Campaign
of 1615.
Ad blocker interference detected!
Wikia is a free-to-use site that makes money from advertising. We have a modified experience for viewers using ad blockers

Wikia is not accessible if you've made further modifications. Remove the custom ad blocker rule(s) and the page will load as expected.