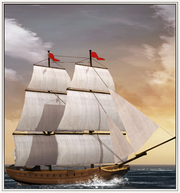 The 
USS Aberdeen
(formerly the 
HMS Aberdeen
) was an American brig, formerly that of the British. It was constructed in Jamaica in 1756 and put to use as a warship during the
French and Indian War
. Piloted by
Hunter Browne
, it preyed on French shipping, but in 1776, during the
American Revolution
, it was captured by colonial rebels when Boston fell. The ship was renamed with the prefix "USS" and piloted for the
Continental Navy
. It was recaptured by the British at Jamestowne on 15 April 1777 when Browne landed on the shore to drop cargo and was killed by a sentry. However, HMS Aberdeen was found to have had a gaping hole in the bottom caused by a skid along a rock on the Virginian shore, and it slowly sank as it was put out to sea, killing 100 crew members.
Ad blocker interference detected!
Wikia is a free-to-use site that makes money from advertising. We have a modified experience for viewers using ad blockers

Wikia is not accessible if you've made further modifications. Remove the custom ad blocker rule(s) and the page will load as expected.