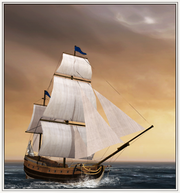 USS Hamilton 
was an American sloop laid down at Pharaoh's Point,
South Carolina
, in 1776, on the orders of the
Continental Congress
, who wanted to construct a naval fleet to blockade British ports and trade routes. It had a fine career, sinking
HMS Zama
in 1781. The ship was disarmed in 1783 after the end of the war and sold to a private company as a travel vessel.
Ad blocker interference detected!
Wikia is a free-to-use site that makes money from advertising. We have a modified experience for viewers using ad blockers

Wikia is not accessible if you've made further modifications. Remove the custom ad blocker rule(s) and the page will load as expected.