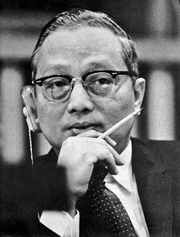 U Thant
(22 January 1909-25 November 1974) was Secretary-General of the
United Nations
from 30 November 1961 to 31 December 1971, succeeding
Dag Hammarskjold
and preceding
Kurt Waldheim
.
Biography
Thant was born in Pantanaw, British Burma, British Raj on 22 January 1909 to a devout Buddhist family. Thant went to school at Rangoon University and became politically active while he was a student, positioning himself as a moderate, between the radical Burmese nationalists and the pro-British loyalists. Thant was good friends with Burmese independence leader U Nu, and he served in various cabinet positions under U Nu from 1948 to 1961. In 1961, U Thant succeeded Dag Hammarskjold as Secretary-General of the United Nations when Hammarskjold was killed in a plane crash over Zambia. Thant negotiated an end to the Cuban Missile Crisis in 1962, oversaw "Operation Grandslam" during the Congo Crisis, and criticized the United States' role in the Vietnam War. He refused to run for a third term in 1971, and he died of cancer in New York City in 1974 at the age of 65.
Ad blocker interference detected!
Wikia is a free-to-use site that makes money from advertising. We have a modified experience for viewers using ad blockers

Wikia is not accessible if you've made further modifications. Remove the custom ad blocker rule(s) and the page will load as expected.