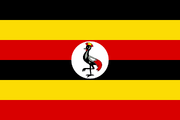 The
Republic of Uganda
is an
East African
country with its capital at Kampala. In 1894, the
United Kingdom
colonized what is now Uganda and ruled it as the "
Uganda Protectorate
", and Uganda was granted independence on 9 October 1962. Uganda's history was marred with several dictatorships and civil wars, with
Idi Amin
seizing power from
Milton Obote
in 1971 and embarking on an anti-
Asian
ethnic cleansing campaign, Obote regaining power in 1979 as the result of a war between Uganda and
Tanzania
, Obote being overthrown by
Yoweri Museveni
in 1986 as the result of the
Ugandan Bush War
, and the dictator Museveni facing a rebellion by the
Christian
Lord's Resistance Army
militia after 1987. Today, Uganda is one of the world's poorest countries, and it still suffers from political instability. In 2017, Uganda had a population of 37,873,253 people.
Gallery
Ad blocker interference detected!
Wikia is a free-to-use site that makes money from advertising. We have a modified experience for viewers using ad blockers

Wikia is not accessible if you've made further modifications. Remove the custom ad blocker rule(s) and the page will load as expected.