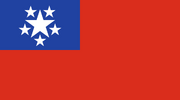 The 
Union of Burma
was a parliamentary republic that administered
Myanmar
from 4 January 1948 to 2 March 1962, with Rangoon serving as its capital. During
World War II
,
U Saw
failed to secure a
British
promise for independence after the war, but Britain promised to grant Burma dominion status after the war's end in 1945. In April 1947,
Aung San
's
AFPFL
organization won an overwhelming victory, but the people were far from unanimous in their support for Aung San's regime.
Karen
and
communist
rebels rose up against the government in 1948, and much of northern Burma was occupied by
Kuomintang
forces who were fighting against the
Communist Party of China
during the
Chinese Civil War
. By 1958, Burma was making an economic recovery, but a split in the AFPFL led to further instability. In 1962,
U Nu
invited Army Chief of Staff
Ne Win
to take over the country, and Ne Win's
Burma Socialist Programme Party
persecuted
communists
and created the
Socialist Republic of the Union of Burma
.
Gallery