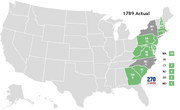 The 
United States presidential election, 1789
was held from 15 December 1788 to 10 January 1789, the first presidential election in the
United States
due to the recent passage of the
US Constitution
. All 69 electors cast their votes for
George Washington
; 11 other candidates were voted for by the electors' second votes, as members of the Electoral College were originally granted two votes each.
John Adams
won 34 of the second votes, while independent candidates received 35 second votes. Washington was unanimously elected in an election that did not include
New York
(due to electoral disputes) or the states of
North Carolina
and
Rhode Island
, which had not yet ratified the Constitution.
Results
Presidential election
Preceded by:
none

1789
Succeeded by:
1792

Ad blocker interference detected!
Wikia is a free-to-use site that makes money from advertising. We have a modified experience for viewers using ad blockers

Wikia is not accessible if you've made further modifications. Remove the custom ad blocker rule(s) and the page will load as expected.