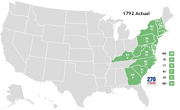 The 
United States presidential election, 1792
was the second presidential election in the history of the
United States
, held on 2 November-5 December 1792.
George Washington
was unanimously re-elected with 132 votes, while
John Adams
was re-elected as vice-president with 77 votes. The election was the only one in US history that was not held exactly four years after the previous one.
Results
United States presidential election
Preceded by:
1789

1792
Succeeded by:
1796

Ad blocker interference detected!
Wikia is a free-to-use site that makes money from advertising. We have a modified experience for viewers using ad blockers

Wikia is not accessible if you've made further modifications. Remove the custom ad blocker rule(s) and the page will load as expected.