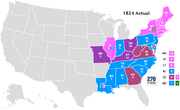 The 
United States presidential election, 1824
was held from 26 October to 2 December 1824. Four
Democratic-Republican Party
candidates ran for the presidency:
John Quincy Adams
,
Andrew Jackson
,
William H. Crawford
, and
Henry Clay
, and it was the first election where the popular vote was counted, as no candidate secured a majority of the vote. Jackson received the most, with 99 votes, while Adams received 84, Crawford received 41, and Clay won 37. Under the
12th Amendment
, the
US House of Representatives
chose Adams as the new president, and the Democratic-Republican Party split into Adams and Clay's
National Republican Party
and Jackson's
Democratic Party
.
Results
United States presidential election
Preceded by:
1820

1824
Succeeded by:
1828

Ad blocker interference detected!
Wikia is a free-to-use site that makes money from advertising. We have a modified experience for viewers using ad blockers

Wikia is not accessible if you've made further modifications. Remove the custom ad blocker rule(s) and the page will load as expected.