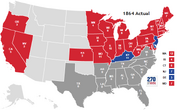 The 
United States presidential election, 1864
was held on 8 November 1864. The election only occurred in the north, the
Midwest
, and the
American West
, as the southern states had seceded to form the
Confederate States of America
during the
American Civil War
. The cowardly
Union
general
George B. McClellan
ran as the
Democratic Party
candidate with
George H. Pendleton
as his running mate, and McClellan campaigned on bringing the war to a speedy end through peace negotiations. The incumbent president,
Abraham Lincoln
, ran as the
Republican Party
nominee, and he chose the
Democratic Party
member
Andrew Johnson
as his running mate to form a wartime "national union" government. Lincoln united both Republicans and War Democrats, while McClellan was supported only by anti-war
Copperheads
. Lincoln won the election with 212 votes to McClellan's 21 votes.
Results
United States presidential election
Preceded by:
1860

1864
Succeeded by:
1868