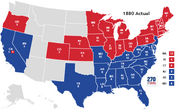 The 
United States presidential election, 1880
was held on 2 November 1880. The
Republican Party
and the
Democratic Party
both chose
American Civil War
Union
generals as their candidates, with the Republicans choosing
James A. Garfield
and the Democrats choosing
Winfield Scott Hancock
. The
socialist
Greenback Party
ran another general,
James B. Weaver
, as its candidate, but it failed to gain widespread support. The Republicans fought to implement tariffs and to block
Chinese
immigration, while the Democrats fought for "tariffs on revenue only" and also to block immigration. The Republicans gained support in the northeast and the
Midwest
, while the Democrats controlled the "
Solid South
" for the first time, holding onto this region until the 1970s. Garfield won the election with 214 votes, while Hancock received 155 votes.
Results
United States presidential election
Preceded by:
1876

1880
Succeeded by:
1884