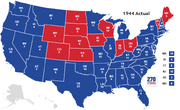 The
United States presidential election, 1944
was held on 7 November 1944. The incumbent President of the
United States
,
Franklin D. Roosevelt
, secured his
Democratic Party
's nomination to run for a fourth term in office, with
Harry S. Truman
serving as his running mate. The
Republican Party
chose
Thomas E. Dewey
 as its candidate, and
John W. Bricker
served as his running mate. Dewey opposed the
New Deal
and campaigned to decrease the size of the federal government, but the popular Roosevelt continued to win the votes of people from all across the country due to his economic policies and his wartime leadership - the election occurred during
World War II
. Roosevelt won the election with 432 electoral votes to Dewey's 99.
Results
United States presidential election
Preceded by:
1940

1944
Succeeded by:
1948

Ad blocker interference detected!
Wikia is a free-to-use site that makes money from advertising. We have a modified experience for viewers using ad blockers

Wikia is not accessible if you've made further modifications. Remove the custom ad blocker rule(s) and the page will load as expected.