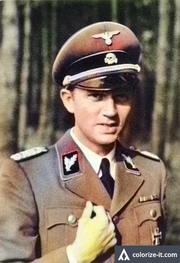 Walter Schellenberg
(16 January 1910-31 March 1952) was a
German
SS
-
Brigadefuhrer
who once served as head of
Nazi Germany
's intelligence during
World War II
.
Biography
Walter Schellenberg was born in Saarbrucken, Prussia, German Empire in 1910, and the joined the SS in 1933 after graduating from the University of Bonn's law school. In 1935, he met Reinhard Heydrich and was recruited into the Sicherheitdienst intelligence agency's counter-intelligence department. He made a good impression on the Nazi Party elite, while he was hated by the brawling Brownshirts. He supported the merging of the SS and police organizations, and he masterminded the Wehrmacht's granting of logistical support to the Einsatzgruppen during Operation Barbarossa, helping them with carrying out their killing operations more effectively. The skilled Schellenberg was able to organize spy operations inside of the USSR and bust British spies in counter-intelligence operations, and he became the closest professional confidant of Heinrich Himmler. In 1945, he attempted to encourage Himmler to overthrow Adolf Hitler and negotiate a separate peace with the Western Allies, and he instigated meetings with Count Folke Bernadotte. In 1949, he was sentenced to six years in prison for murdering Soviet POWs, but he was released after two years due to ill health and died in Turin, Italy in 1952 from a liver condition.
Ad blocker interference detected!
Wikia is a free-to-use site that makes money from advertising. We have a modified experience for viewers using ad blockers

Wikia is not accessible if you've made further modifications. Remove the custom ad blocker rule(s) and the page will load as expected.