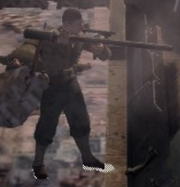 Wayne Thomas Clark
(23 October 1920-2 June 2008) was a
US Army Rangers
sergeant and Medal of Honor recipient during the
Korean War
. 
Biography
Wayne Thomas Clark was born in Erie,
Pennsylvania
on 23 October 1920, and he enlisted in the
US Army Rangers
in 1942 during
World War II
. Clark fought in
France
and
Germany
during the war, rising to the rank of Sergeant. He decided to stay in the army even after the war's end, and he commanded a squad of Rangers during the
Korean War
. In September 1950, Clark fought at the
Second Battle of Seoul
, where Clark and his squad engaged in heavy block-to-block fighting with the
North Korean
troops. Clark's squad was one of few US squads to make it past the killzone in the center of the city and advance north, and they came upon a troublesome North Korean tank that had taken cover inside of a destroyed building, next to a destroyed
T-34/85
tank. Clark used an M18 recoilless rifle to put several rounds into the tank, which was trapped in the building; it was the upper part of a "T" shape, with the other destroyed tank forming the bottom half, and walls bordering the tank on two sides. The North Korean tank attempted to wiggle out of the building, but Clark managed to shoot its hatch, destroying it. Its desperate crew members attempted to flee, only to be gunned down by Clark and his squad. This occurred near the very end of the battle, and Clark led his squad to move to the northernmost North Korean command post, which was captured without resistance. Clark, who had survived one of the bloodiest battles of the war and single-handedly taken down a North Korean tank, was awarded the Medal of Honor. Clark returned home to work as a refrigerator salesman, and he died at the age of 87 in 2008.
Ad blocker interference detected!
Wikia is a free-to-use site that makes money from advertising. We have a modified experience for viewers using ad blockers

Wikia is not accessible if you've made further modifications. Remove the custom ad blocker rule(s) and the page will load as expected.