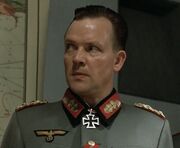 Wilhelm Burgdorf
(15 February 1895-2 May 1945) was a 
General der Infanterie
of the
German
Wehrmacht
during
World War II
and
Adolf Hitler
's chief adjutant. Burgdorf committed suicide at the end of the
Battle of Berlin
.
Biography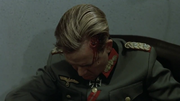 Wilhelm Burgdorf was born in Furstenwalde,
Brandenburg
,
German Empire
on 15 February 1895, and he served as an infantry officer in a grenadier regiment of the
Imperial German Army
during
World War I
. He served in the
Reichswehr
between the wars and was promoted to captain in 1930, and he became an instructor at the Dresden military academy as a Major in 1935. From May 1940 to April 1942, he commanded the 529th Infantry Regiment, and he served in various staff positions in the following years. In October 1944, he became Chief of the Army Personnel Office and
Adolf Hitler
's chief adjutant, and he was responsible for
Erwin Rommel
's suicide, telling him that his family and staff would gain immunity if he killed himself. Burgdorf would join Hitler in the 
Fuhrerbunker
during the
Battle of Berlin
, and he outlived Hitler by two days. On 2 May 1945, Burgdorf and
Hans Krebs
shot themselves in the head.
Ad blocker interference detected!
Wikia is a free-to-use site that makes money from advertising. We have a modified experience for viewers using ad blockers

Wikia is not accessible if you've made further modifications. Remove the custom ad blocker rule(s) and the page will load as expected.