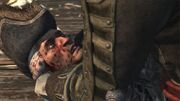 William Herle
(1675 - April 1718) was the captain of the
British
Royal Navy
man o' war
HMS Princess of London
 during the
Golden Age of Piracy
. In April 1718, the ship was assaulted by
Blackbeard
's ship 
Queen Anne's Revenge
off
Mariguana Island
as it returned to the
Caribbean Sea
from
Charles-Towne
,
South Carolina
, and Blackbeard and
Edward Kenway
succeeded in boarding the ship after it put up a good fight. Kenway mortally wounded Herle, who told Blackbeard and Kenway that they would be hanged and "sun-dried" like the pirates in
Boston
.
Ad blocker interference detected!
Wikia is a free-to-use site that makes money from advertising. We have a modified experience for viewers using ad blockers

Wikia is not accessible if you've made further modifications. Remove the custom ad blocker rule(s) and the page will load as expected.