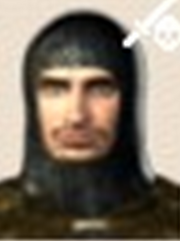 Captain William Shrewsbury, Count of Meath 
(13 April 1229 Tewkes, England-August 8, 1276) was an English nobleman and general who was most famous for his defeat of
King Brian
's army at the
Battle of Druim Dearg
in 1261, which resulted in the fall of Ulster to English forces. 
Biography
William Shrewsbury was born to Henry de Shrewsbury and Anne of Bristol, raised in the castle of Tewkes. Shrewsbury's father became Count of Meath in 1228 for his victory over some weak Irish rebels and when he died in 1240, William became the next Count. The Count of Meath took his father's place as the commander of the Army of Ulster and defeated an Irish army of 1,000 troops at Guin Darg in 1245. Afterwards, the Count of Meath became a royal favourite of
Henry III of England
and he was made the Governor of Meath after impressing him with many more victories over the Irishmen.
Meath's greatest triumph was of that over the Irish at the Battle of Druim Dearg, where his army of 4,200 Englishmen destroyed King Brian I of Ireland's inexperienced army of 2,700 troops in Ulster, although 1,770 of his men were killed in action by the resolute Irish front lines in the victory. This victory held off the Irish invasion of County Meath and also led to the peaceful occupation of Derry, which had fallen to the rebels in 1259. William's fief at Meath Castle was traded for 10,000 acres of land known as William's Park today. However, with the ousting of the English from Ireland, he lost his land.
Ad blocker interference detected!
Wikia is a free-to-use site that makes money from advertising. We have a modified experience for viewers using ad blockers

Wikia is not accessible if you've made further modifications. Remove the custom ad blocker rule(s) and the page will load as expected.