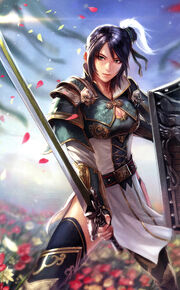 Zhang Xingcai 
(195-271 AD) was a
Three Kingdoms
Era-Chinese woman. The daughter of fierce warrior
Zhang Fei
and the wife of Emperor
Liu Shan
of
Shu Han
, she was also a general in her own right.
Biography
Xing Cai was born in 195 AD to Zhang Fei, a fearsome warrior who was the sworn brother of Liu Bei and Guan Yu. In 214 AD, she was allowed to join the Campaign for Cheng Du along with Liu Bei's Forces, and fought with valor during the Siege of Chengdu that year. In 218 AD, alongside Guan Ping, she was also involved in the Battle of Mt. Ding Jun, first under the auspices of Zhao Yun, then independent, as Zhao Yun felt she was old enough to fight her own battles. She took part in the attack on Mt. Tian Dang, where she defeated Xiahou De, and also broke down a Wei supply base. She even managed to cut Cao Cao's arm, wounding him, and gained fame for her performance during the fall of Dingjun.
In 222 AD, Xing Cai recieved word that her own father Zhang Fei was killed, not long after Guan Ping and Guan Yu were reported to have been slain. Liu Bei, enraged about losing his sworn brothers, ordered his armies to attack Wu. Little did he know that these actions were contradicting his own principals. Xing Cai was obliged to take part in the battle, aiding in the creation of the kingdom that her father had dreamed of. At the Battle of Yi Ling, she brought a ray of hope for the Shu Han forces, injuring Ling Tong by shooting five arrows into him. 
After the Battle of Yi Ling, Liu Bei passed away. Before his death, he asked Xingcai to take care of his son, Liu Chan. She tried her best to help him, but it was very tiresome. In 229 AD, without Zhao Yun, Zhang Fei, or Guan Ping, she fought at the Battle of Jie Ting against Wei, leading by example. Ma Chao and Xing Cai met the Wei generals Deng Ai, Cao Hong, and Zhen Ji on the road as Jiang Wei led his troops in an attempt to save Ma Su from the surrounding Wei troops; he unwisely headed for the mountaintop of Jieting and was isolated. She performed well in the battlefield, wounding Cao Hong, and in 234 AD, fought Wu at the Siege of Bai Di Castle. She defeated Zhang Cheng, Han Dang, Jiang Qin, Xu Sheng, and Sun Quan himself, winning the battle.
In the 240s AD-250s, she took part in Jiang Wei's Northern Expeditions, and in 259 took part in an invasion of Guanzong. She was wounded defending Chengdu in 263 AD, and had to fight alongside Liu Shan against Zhong Hui's Rebellion a year later. She died in 271 AD of natural causes.
Ad blocker interference detected!
Wikia is a free-to-use site that makes money from advertising. We have a modified experience for viewers using ad blockers

Wikia is not accessible if you've made further modifications. Remove the custom ad blocker rule(s) and the page will load as expected.