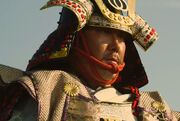 Yasuharu Wakisaka
(1554-1626) was an
Oda
,
Toyotomi
, and
Tokugawa
general who was known best for being one of the
Seven Spears of Shizugatake
.
Biography
Yasuharu Wakisaka was born in Awaji, an island in between Shikoku and Honshu, which belonged to the Miyoshi clan, and later, the Chosokabe. He was originally an Oda retainer who was under Mitsuhide Akechi, but betrayed his lord at the Battle of Yamazaki in 1582 after he slew Nobunaga Oda, and joined the Toyotomi Army. He fought at the Battle of Shizugatake in 1583 under Hideyoshi Hashiba and became nicknamed one of the "Seven Spears of Shizugatake", seven young Toyotomi retainers who made names for themselves as fine warriors. He fought in Hideyoshi's invasions of Korea from 1592 to 1598, fighting in the Battle of Myeyongyang, where a Korean fleet destroyed his forces. After the death of Hideyoshi, he became a Kobayakawa retainer under Hideaki Kobayakawa and fought alongside him in the Battle of Sekigahara, where they defected to the Eastern Army after serving under the Western Army, whose commander Mitsunari Ishida treated Hideaki poorly. Yasuharu was granted a fief in northern Shikoku in Iyo Province, and ruled it until his death.