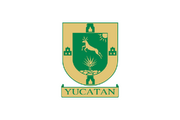 Yucatán
is one of the 32 federal entities of
Mexico
, located on the
Yucatan Peninsula
; Merida serves as its capital. The state of Yucatán consists of 106 municipalities and large portions of rainforest, and it is home to many ruins from the
Mayan
civilization, which once inhabited the Yucatán peninsula. From the 16th century until 1697, the Yucatán was conquered by
Spain
, and it was the last native kingdom to be conquered by Spain during its conquest of the
Americas
. On 23 December 1823, after Mexico won its independence, Yucatán became a federal state of Mexico. On 16 March 1841, separatists declared the
Republic of Yucatan
in response to a political crisis in the rest of Mexico, but the republic rejoined Mexico seven years later. The state is now the safest in Mexico, and Merida was once rated "the city of peace" in 2011. In 2015, Yucatán had a population of 2,097,175 people.
Gallery
Ad blocker interference detected!
Wikia is a free-to-use site that makes money from advertising. We have a modified experience for viewers using ad blockers

Wikia is not accessible if you've made further modifications. Remove the custom ad blocker rule(s) and the page will load as expected.