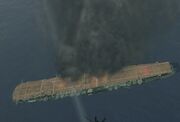 The 
Zuikaku
was an
Imperial Japanese Navy
aircraft carrier that was launched on 27 November 1939 and commissioned on 25 September 1941. Her complement of aircraft took part in the
Attack on Pearl Harbor
, and she fought in several important naval battles during
World War II
. She suffered severe aircraft and aircrew losses at the
Battle of the Coral Sea
in 1942, forcing her to miss out on the
Battle of Midway
while resupplying and recruiting new pilots. She later fought in the
Solomon Islands
campaign and at the
Battle of the Philippine Sea
, being the only survivor of Carrier Division One; after that battle, she was the last of the six carriers that had attacked Pearl Harbor on 7 December 1941. 
Zuikaku
sent 
kamikaze
pilots to sink two
US Navy
ships at the
Battle of Leyte Gulf
, but she was hit by seven
US Navy
torpedoes and nine aircraft bombs at the
Battle of Cape Engano
. Her captain, Rear Admiral
Kaizuka Takeo
, went down with the ship and 842 of the ship's crew, while 862 crew members were rescued by two destroyers. She was the last surviving carrier to have taken part in Pearl Harbor before her loss, and she was the only carrier to be sunk by aircraft-launched torpedoes.
Ad blocker interference detected!
Wikia is a free-to-use site that makes money from advertising. We have a modified experience for viewers using ad blockers

Wikia is not accessible if you've made further modifications. Remove the custom ad blocker rule(s) and the page will load as expected.